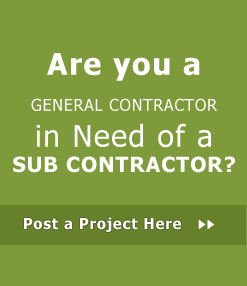 Whether you are a general contractor in need of quality subcontractors to complete your project, or a subcontractor looking for additional work, we have a solution for you.
With the current economy it is more important than ever to have a very deep pool of both current and future bidding opportunities.

Why do generals post their projects?
We are often asked why generals post projects with The Pipeline:
Their usual sub has retired or has gone out of business.
Quality of workmanship or pricing is lacking.
Amount of projects is more than current subcontractor base can handle.
Is new or is building out of normal coverage area.
Lapsing of usual subcontractor's license, workman's comp., or certifications.
The BEST generals in the industry are always strengthening their sub base!

Pricing
Our flat rate, per-lead, pricing is $40 per bona fide bidding opportunity. Multiple pricing discounts are available based on your internal feedback score…. The higher our general contractors rate you….The lower your cost!

QUALIFIED COMPANIES
Only licensed contractors may participate in our program either to post projects or receive project leads.

SMART PROJECT MATCHING
Subcontractors create a profile of project types, trades and geographical areas they cover. The projects are then routed based on our internal feedback. The companies with the highest feedback always receive the leads first.

INTERNAL FEEDBACK
We follow up with all projects that have been posted to receive specific feedback. Subcontractors who do not follow-up on leads, miss appointments, or perform below industry standard work will receive neutral or negative feedback. We administratively close accounts every day for poor feedback ensuring only the best companies are bidding these jobs.

LIMITED COMPETITION / UNWANTED CALLS
Only 3 competing companies will receive a project lead. General contractors are not bombarded with unnecessary calls so that our subcontractors have a legitimate chance of landing projects.

LIBERAL LEAD REPLACEMENT
If any project lead is determined to not meet our highest industry standards a lead credit will be issued. See our lead replacement policy
BUILD LASTING RELATIONSHIPS
Our focus is your success, and a long term relationship with general contractors is the key. It isn't about just landing one project from our leads; rather it's about building a solid relationship with a general that will use you on job after job.

STEADY WORK FLOW
Lining up future projects is the most important thing you can do for your company. A regular supply of qualified bidding opportunities will guarantee you both work for today as well as projects in the future.

SAVES TIME AND MONEY
Most general contractors only replace a few subs in any given year. Finding timely opportunities is really just a question of timing. We will put you in front of the right guy at the right time!

TOP NOTCH CLIENT SERVICE
Our 100 percent US based, industry savvy, client service team is here to assist you. We are knowledgeable, friendly and dedicated to your success.

PRIVATELY FUNDED PROJECTS
All projects must be privately funded. We are not interested in any form of publicly funded work including federal, state, and county projects. Our focus is on repeat business and not just the lowest bid mind-set of government work.

PROVEN TRACK RECORD
Since 1992 our staff has provided quality project leads to our clients.

COMPLETE ACCOUNT CONTROL
You are in complete control of your account. You may place your account on hold or cancel at any time with no early termination or other fees. You only pay for leads as we send them.
How its Work
Project lead is posted
Project is verified
Project is distributed
General is contacted by screened pros.
Feedback is left

Project Posted
Project verified
Project Distributed
Contact

Get Leads
Take a free 3 lead trial of our service and see how Construction Pipeline can put you in contact with some of the best active general contractors in your area!

Our high quality leads, with a true replacement guarantee, will get you projects now and in the future.

Step 1 -
Project lead is posted
General contractor posts a request for contact from subs via phone, web form, email or fax. Every project lead must meet the following criteria…
Be privately funded
Actively seeking phone calls from subcontractors today
General must be licensed by appropriate state agencies
Step 2 -
Project is verified
Before any project lead is ever sent it is phone verified by one of our industry savvy staff. This eliminates a huge percentage of "bad leads." such as…
Subcontractors testing out our system.
Tire kickers, project leads that don't actually have a current project.
All obviously bad web form submissions.
Step 3 -
Project is distributed
Once a project leads has been submitted and verified an email notification is sent based on the established routing criteria of the pro including project type, geographic area, and trade. We NEVER will send out more than 3 companies per trade requested. The subcontractors who have the highest feedback rating will receive projects first.
Step 4 -
General contractor is contacted by subcontractors.
After the emails are sent, subcontractors contact the general by phone to discuss the details and scope of the work required to complete the project.
Step 5 -
Feedback is left
Approximately 2 weeks after each project lead is sent we follow-up with the general contractor. Feedback is determined not only on the successful completion of awarded jobs, but on the entire sales process. Subcontractors who miss appointments, don't follow up on project leads in a timely fashion, or fail to meet professional standards will receive internal negative feedback.
Through this proven system we are able to cultivate relationships between general contractors with ongoing work, and deserving subcontractors who have demonstrated a track record of quality.